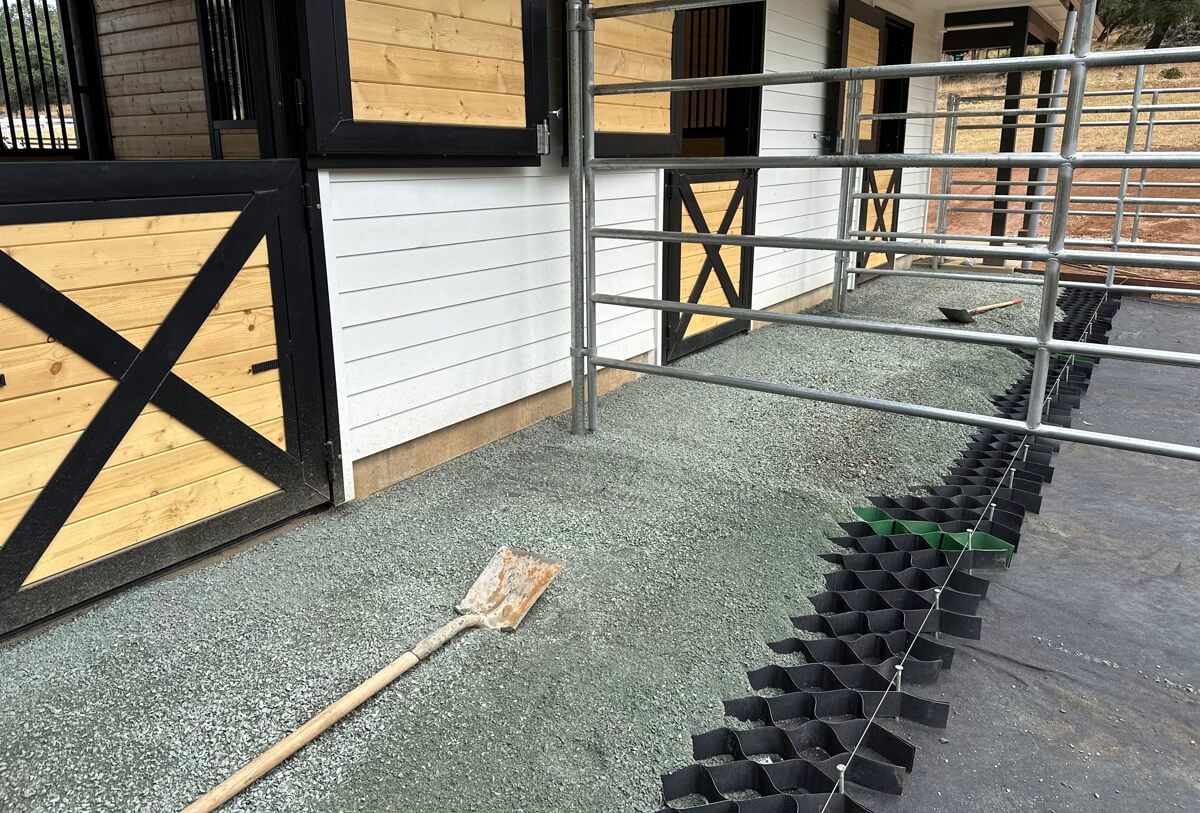 Flexible Mud Control Grids For Horse Farms
For over a decade Lighthoof has been a leader in equine mud management - providing the best mud remediation solutions for horse paddocks, gates, run-in sheds, pasture shelters, dry lots and even stalls!

Be mud free forever with Lighthoof!
Excels on Slopes – Prevents Erosion – Minimal Base Prep
Made in the USA - 10 year warranty - Free shipping in the continental US
Lighthoof is patented for equine use - US9103087B2.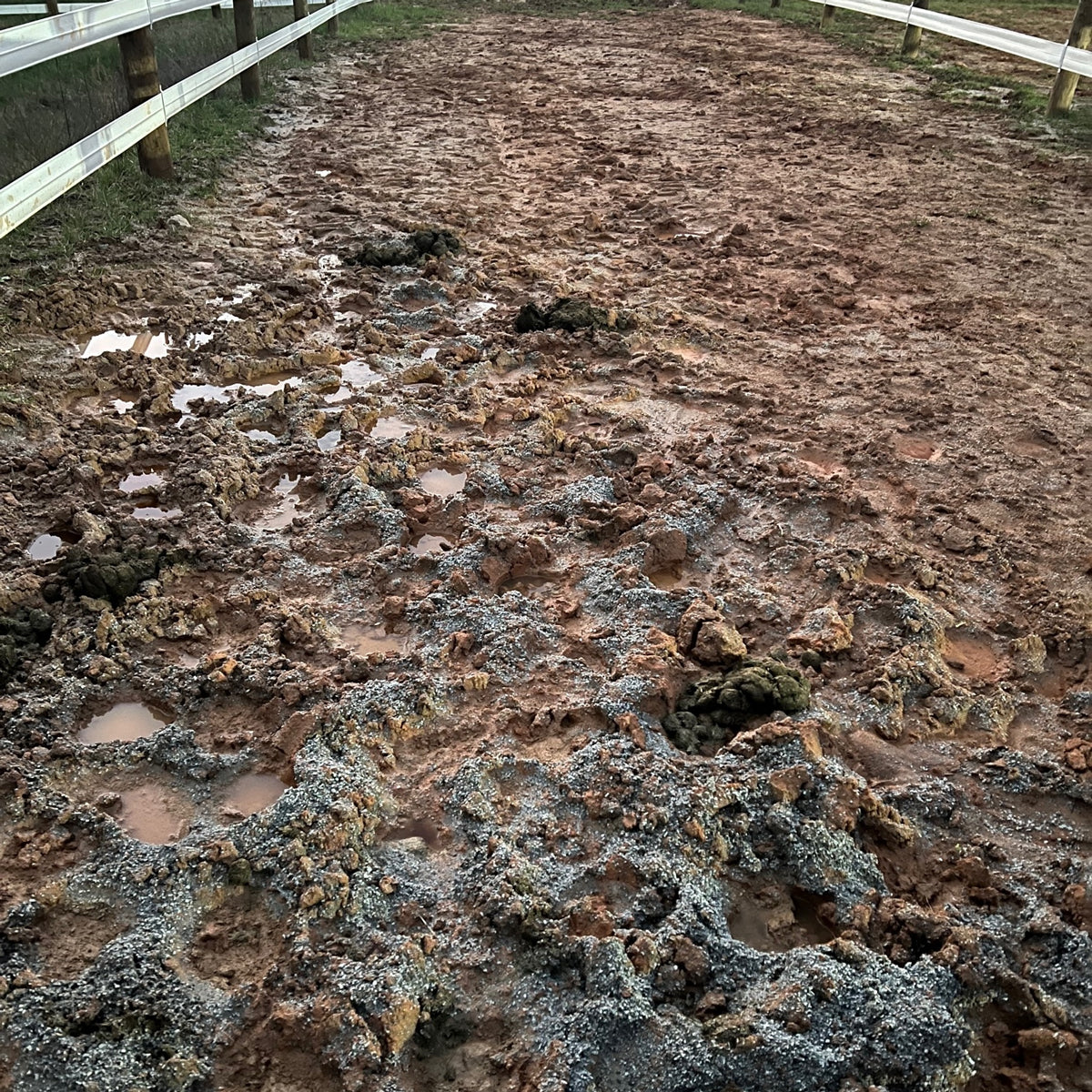 AN INSTALLATION OVERVIEW
GOT MUD?
Lighthoof is the ultimate soil stabilization solution for use in and around all areas of your farm. It is not limited to use with horses - we have many customers using with cows, goats, llamas, chickens and even pigs!
As long as you can get gravel to the site you can install over existing mud. Keep in mind that Lighthoof locks in the lay of the land, so any changes you wish to make to grade to help direct surface water flow should be made prior to installing your panels.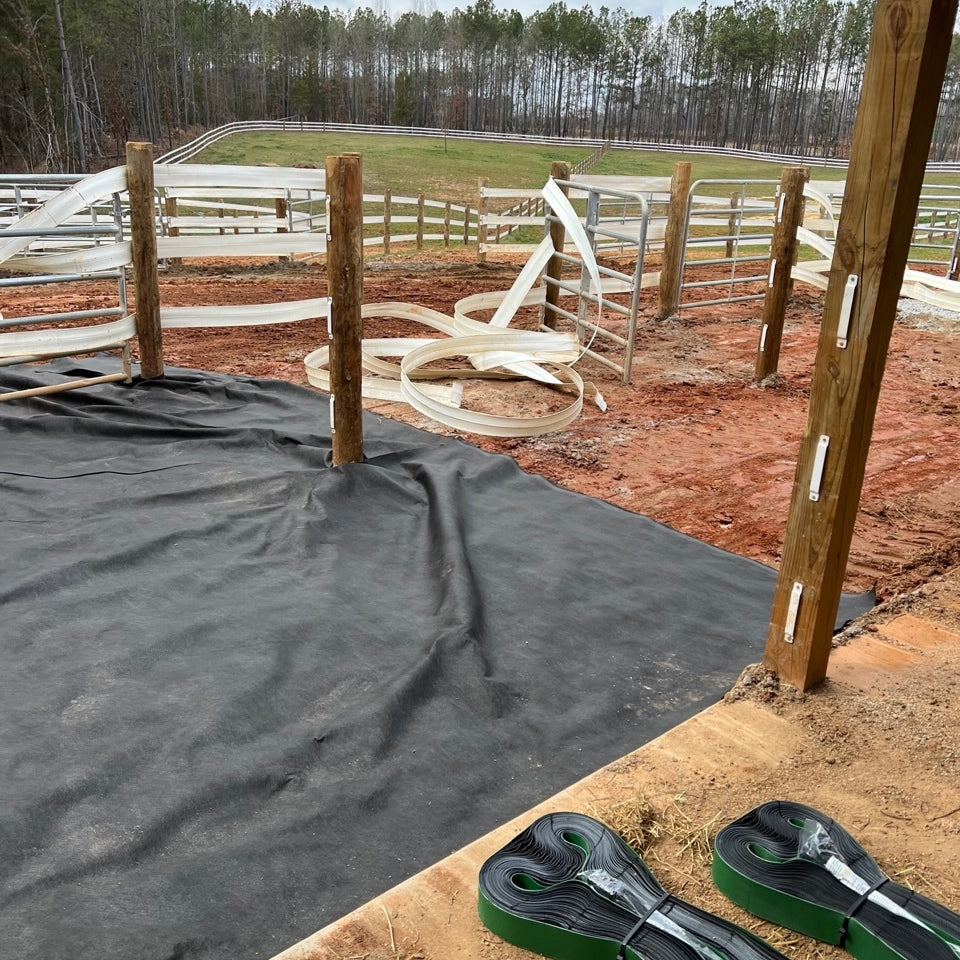 LAY GEOTEXTILE FABRIC
We highly recommend the use of a heavy duty (6-8 oz), non-woven geotextile fabric below your Lighthoof panels. This prevents mud from seeping up and gravel from migrating down. It will extend the life of your installation and prevent gravel loss to mud beneath. This is purchased locally and is also available through many retailers on Amazon - often with free Prime shipping!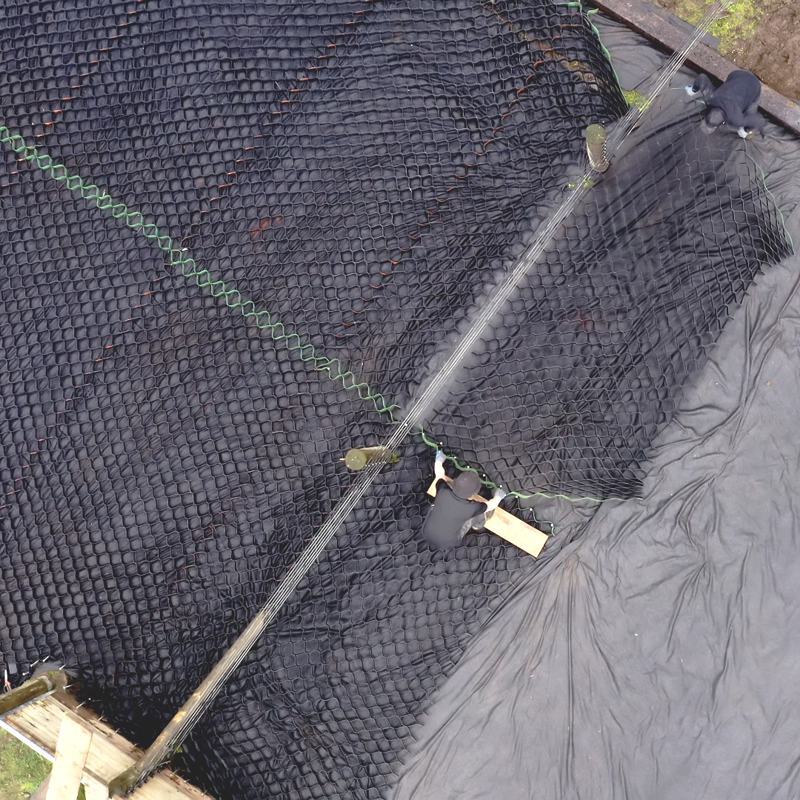 STRETCH PANELS
Each Lighthoof panel expands to be 6'x12'. Included are 40 zip ties per panel so that each cell can be attached to the adjacent one, creating one continuous mat. Connecting each cell ensures that the panels evenly distribute weight, properly hold the compacted gravel and prevent any free edges from emerging through the surface with frost heave. If horses will have access to edges, protect them with railroad ties or pressure treated timbers.

Read more about edge protection and why it's necessary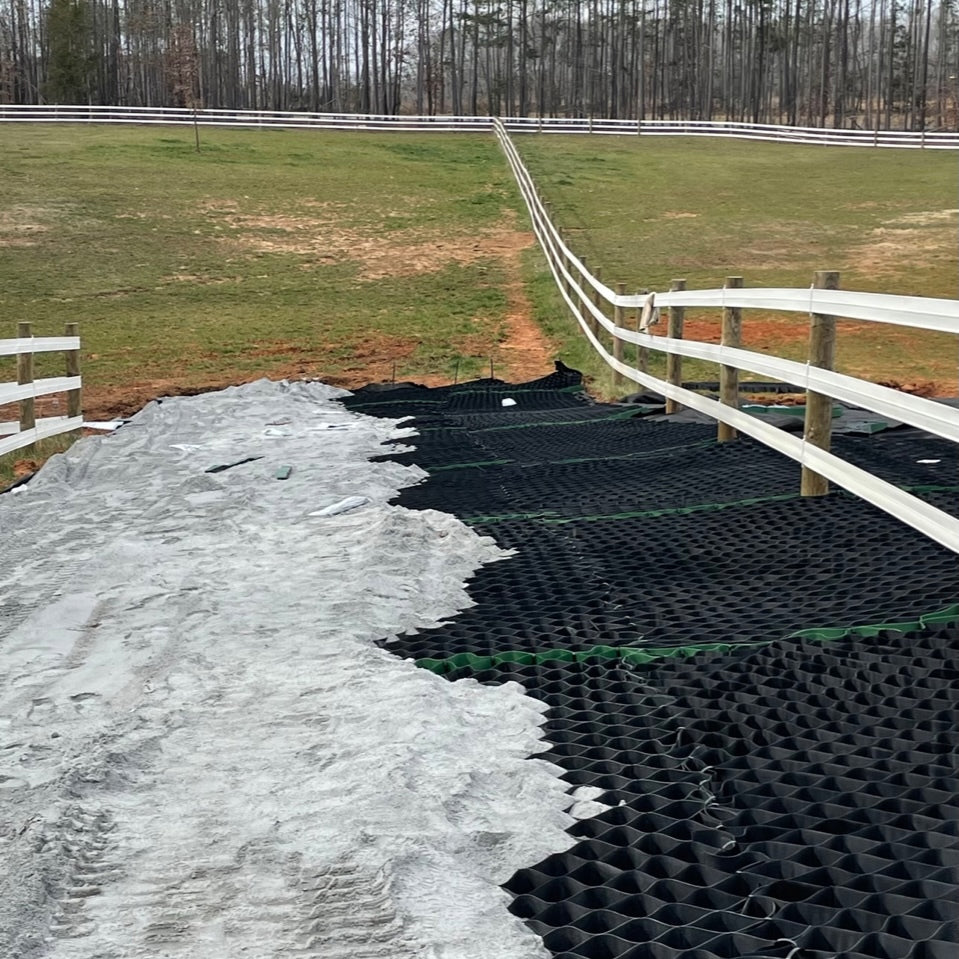 FILL WITH GRAVEL
We recommend using 3/8" minus - a very small, angular crushed stone with fines. It needs to be highly compactable and not contain round particles such as pea gravel or sand. Quarries may have specific names for the type of gravel that fits our specifications and they may not refer to it as 3/8" minus. A standard installation will use between 1.5 - 1.75 cubic yards of gravel per panel.

DO NOT FILL WITH SAND, PEA GRAVEL, CLEAN/WASHED STONE OR OTHER NON-COMPACTING AGGREGATE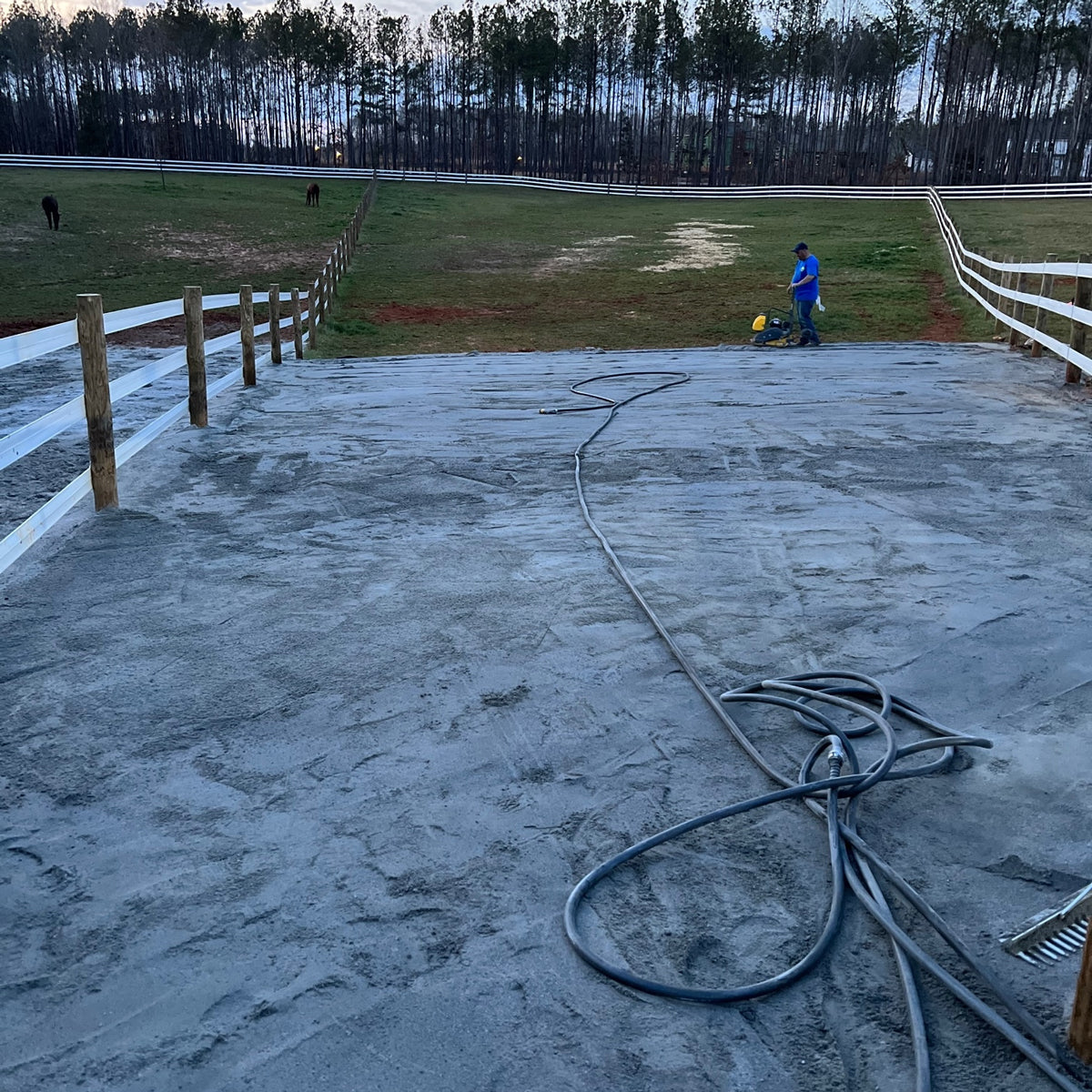 COMPACT THE STONE
Rent a vibrating plate compactor from your local Home Depot or hardware store. They are inexpensive and can often be rented in 4 hour increments. This is a critical step often missed.
Water the gravel if it is dry to aid in compaction. Run the plate compactor slowly over the panels. Once you see the diamond pattern of the cells appearing, add more gravel and compact again until the settling stops. You can then add your final loose top layer on top. 1"-2" additional is what most customers prefer.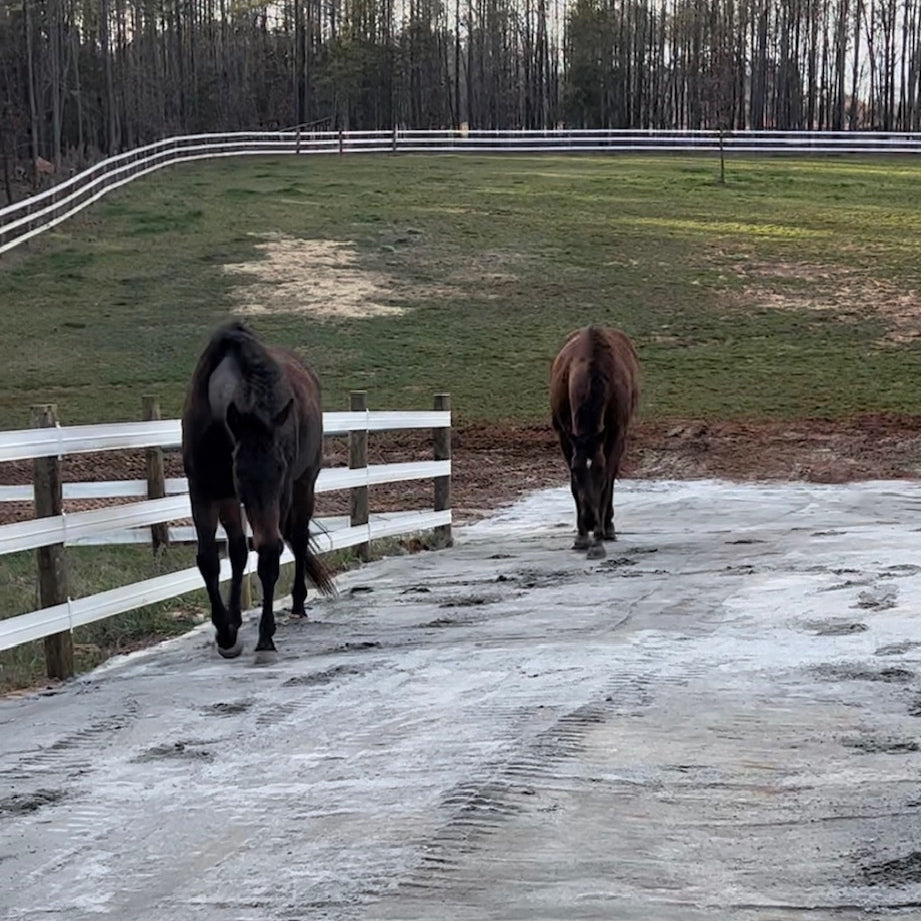 ENJOY BEING MUD FREE... FOREVER!
Customers find that even doing a small area helps tremendously - as the horses prefer to stay on the Lighthoof areas, avoiding tender, wet ground. This usually reduces mud even in areas that do not have Lighthoof. Try just a few panels at a gate to start. We know you'll be back for more!
Watch the full installation process and find tips and tricks on our Installation page.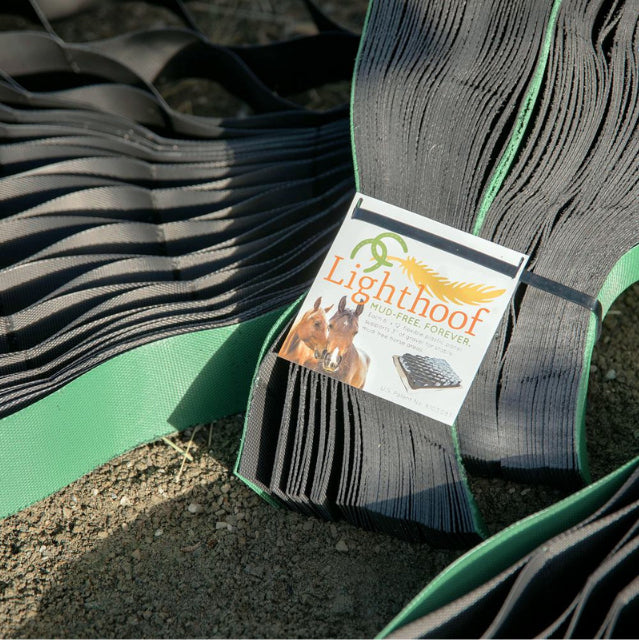 Lighthoof Equine Mud Management Panel
---
$219 per panel (includes shipping in continental USA)
LIGHTHOOF panels eliminate mud by supporting a layer of compacted gravel for your horse to walk on. Each panel is 6' wide by 12' long and is made up of 3" tall cells. The diameter of each expanded cell is approximately 5.5". Each panel weighs approximately 24 lbs. Volume pricing is automatically applied at checkout.
Current Inventory Status - IN STOCK
Volume Pricing
10-19
$208.05
5% off
20-49
$197.10
10% off
50+
$175.20
20% off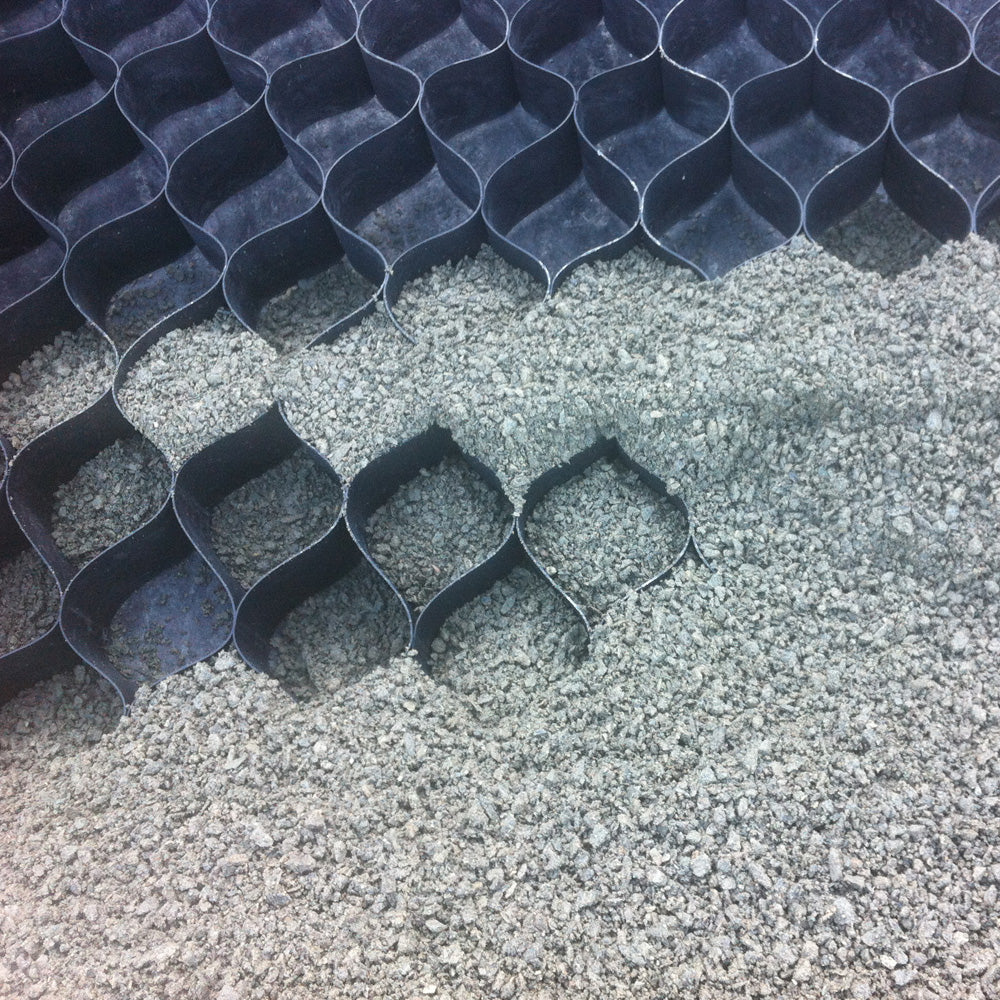 Panels expand to cover at least 6' x 12' of ground (72 sq. ft.) - cell dimensions approximately 5.5" .
Panels cost $219 each, volume pricing is applied at checkout.
No minimum order, all qualities ship free in the continental USA (inquire for international delivery).
Every panels includes forty (40) heavy duty, extra strength zip ties - enough to connect every cell to an adjacent one.
Panels collapse to a fraction of their expanded size - approximately 48" x 15" x 3" weighing 24 lbs.
Manufactured in Houston, TX from US sourced, extruded HDPE - rated by the EPA to last 70 years underground. 10 year limited warranty.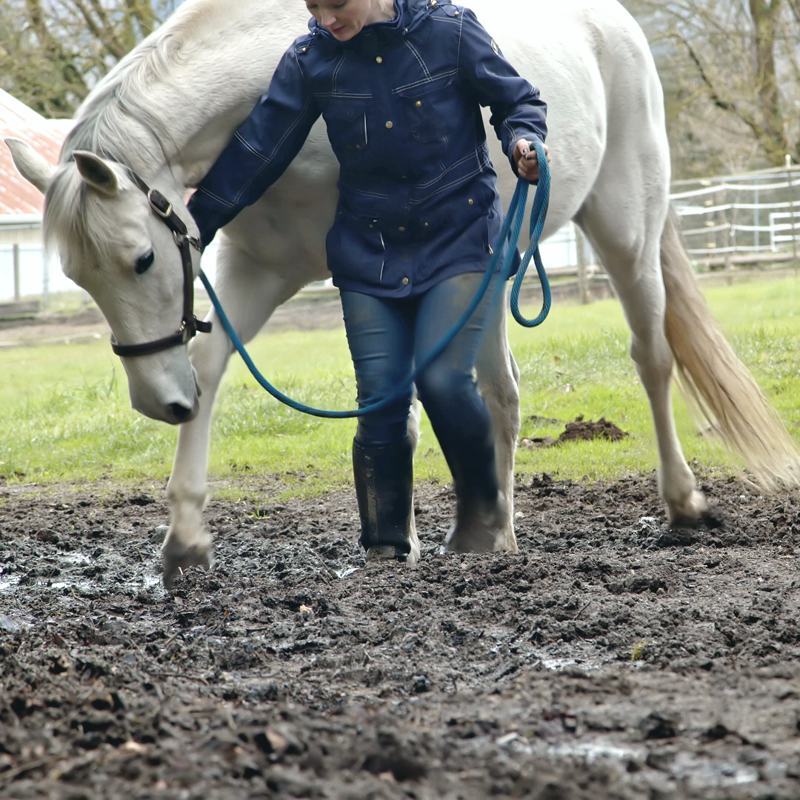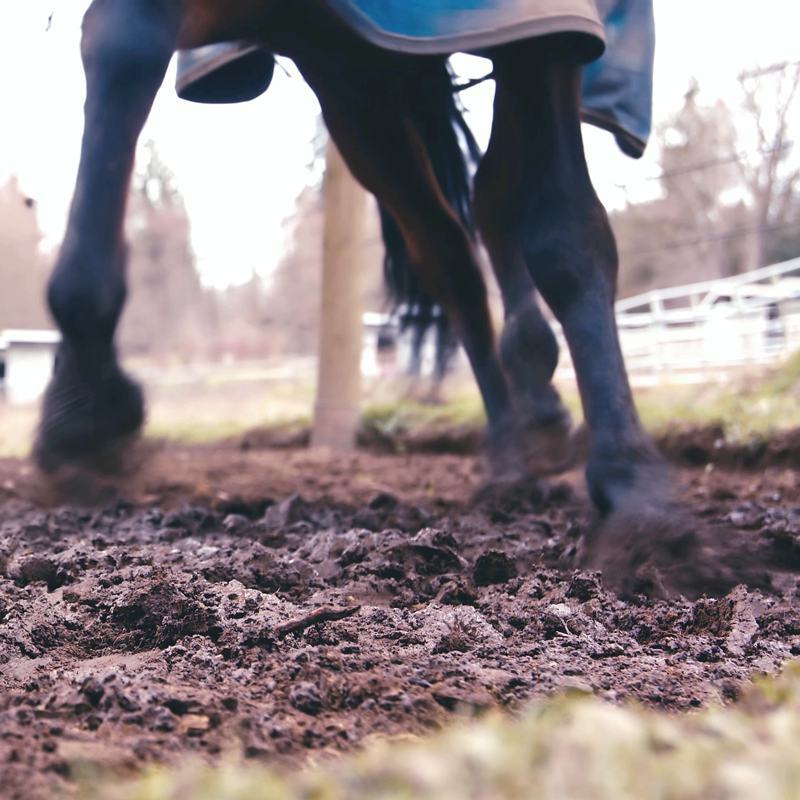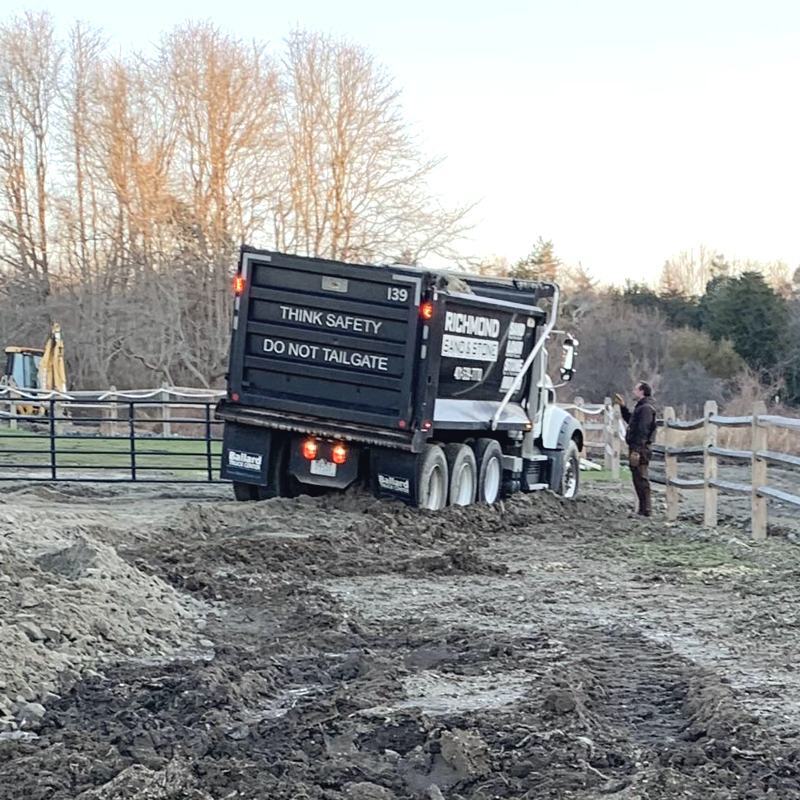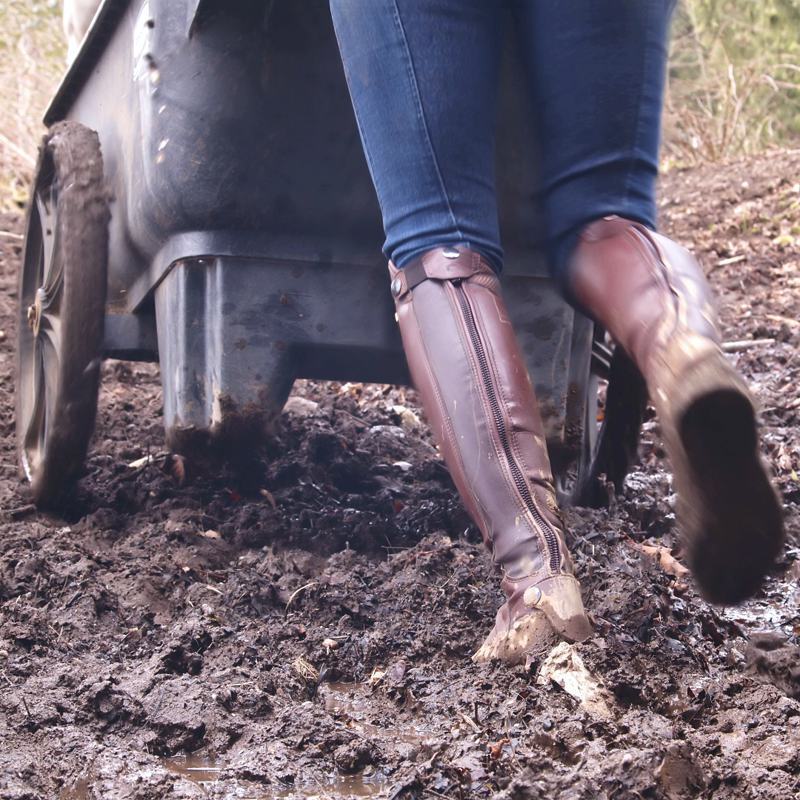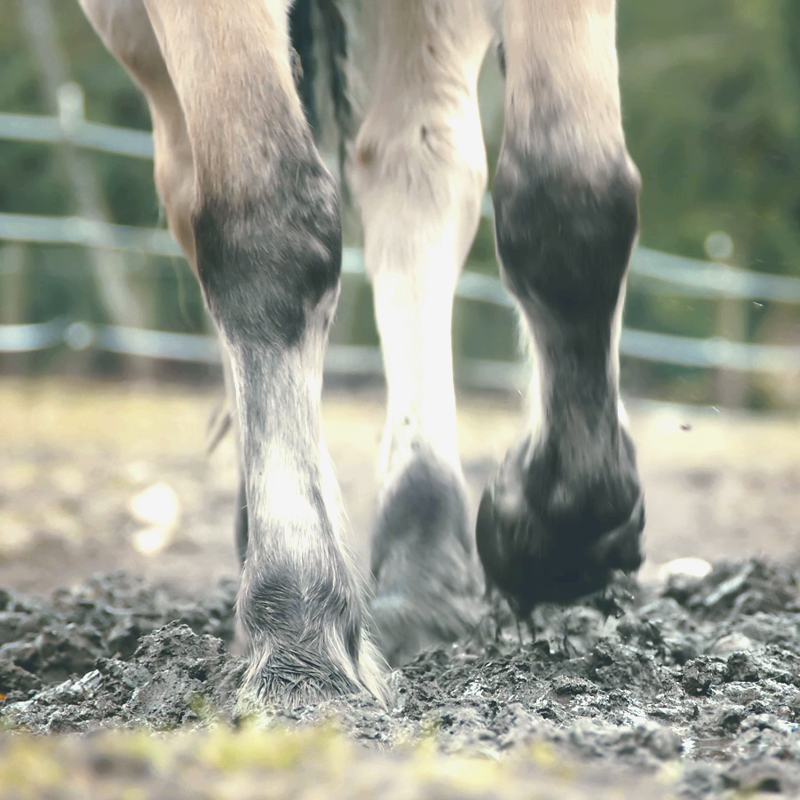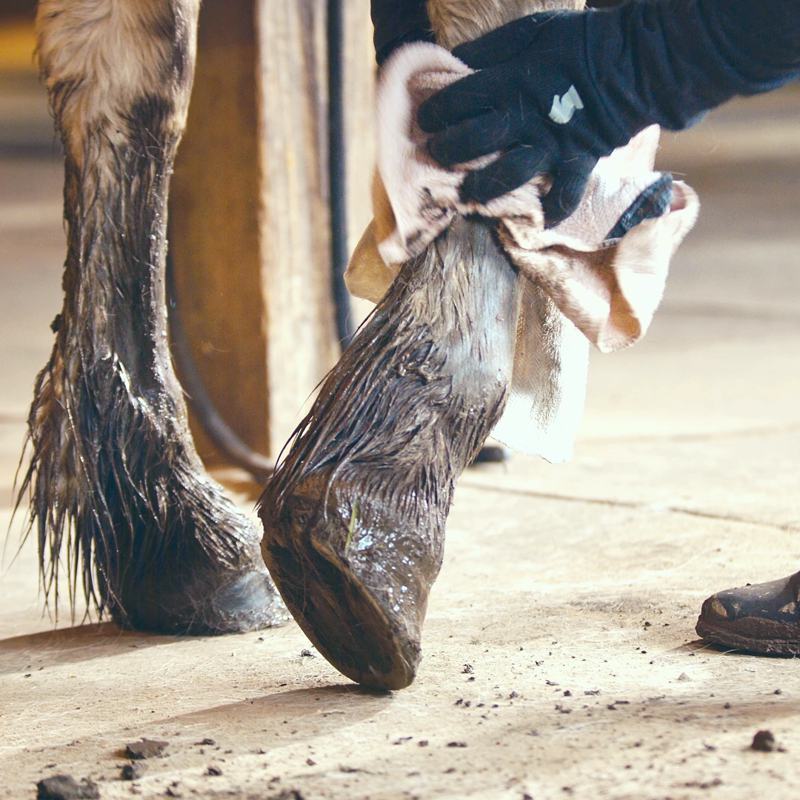 MUD IS BAD
Constant exposure to mud causes skin and hoof conditions including scratches and white line disease
Muddy paddocks can cause serious injury from lack of traction - pasture accidents can be career ending
Paddocks are difficult to maintain when muddy
Adequate manure management is impossible
Mud reduces the perceived value of your farm
Vehicle access is limited by deep mud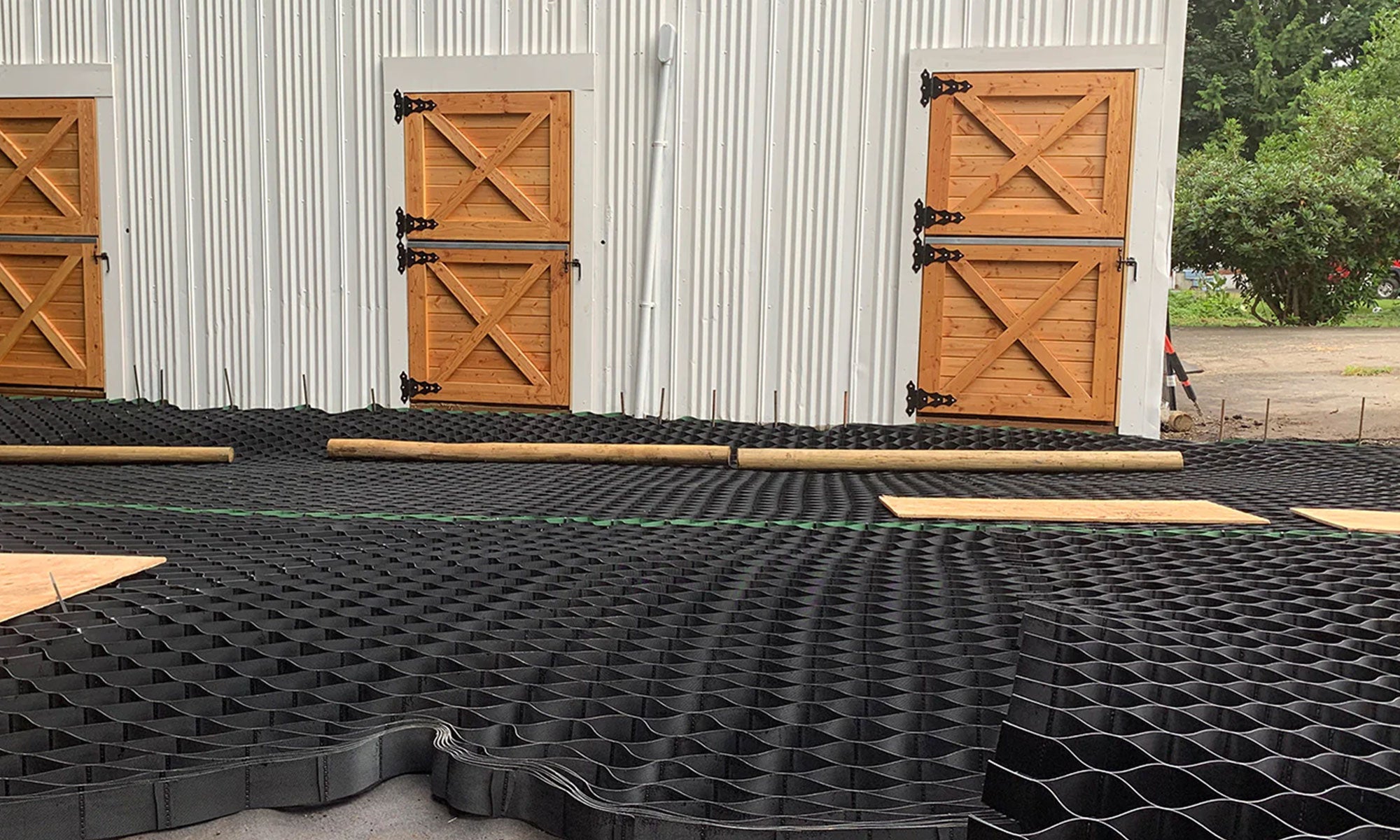 Before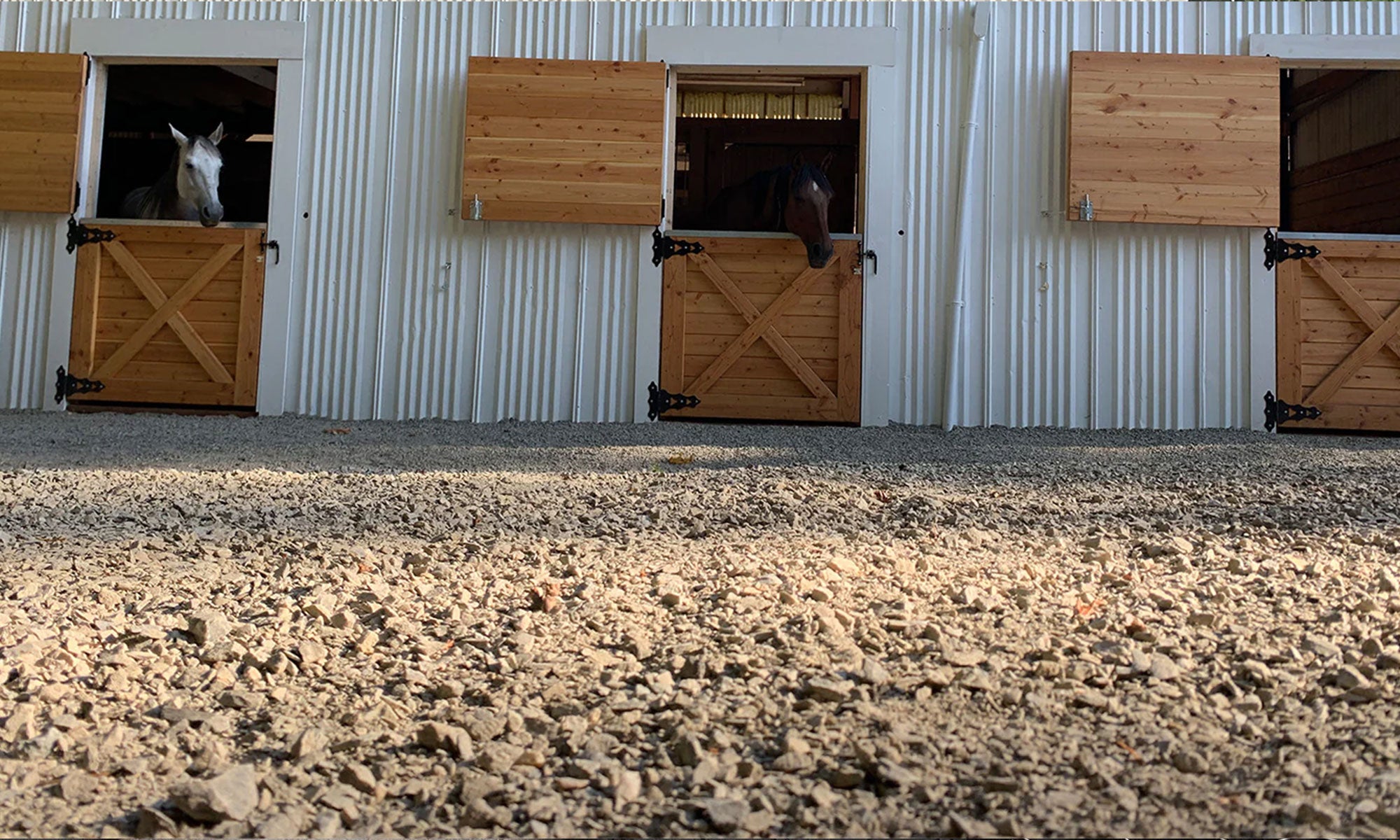 After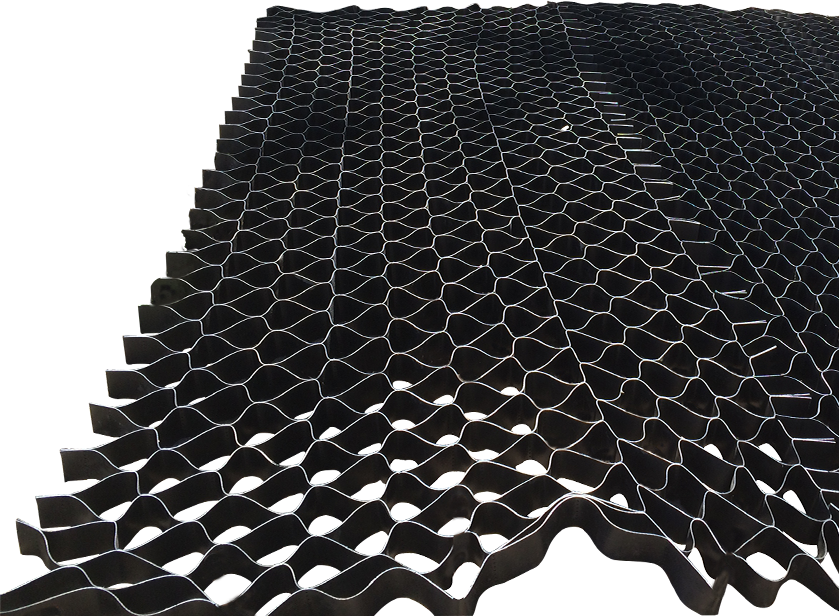 WE UNDERSTAND WHAT IT'S LIKE TO DO BATTLE WITH MUD!
Our founders are life-long horse people with a boarding and training facility in the Pacific Northwest housing 40 horses.
As a product design engineer and an equine husbandry expert, they put their heads together to develop a solution that would be robust enough to withstand the rigors of decades of horse use. They knew that it had to be designed specifially for this purpose - a light-duty solution was not an option!
With over a decade in "the field" (hehe!), tens of thousands of Lighthoof panels have proven themselves as lifesavers to horses and horse owners in different climates all over the world!
ORDER NOW