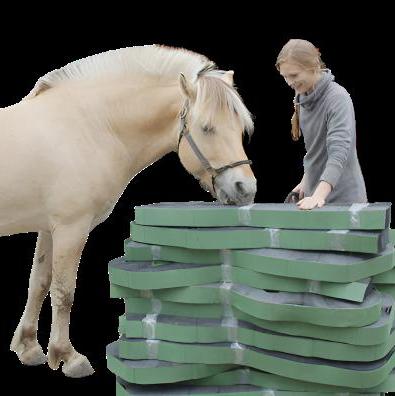 THE LIGHTHOOF DIFFERENCE
Like most products designed for horses, there are differences in materials and manufacturing that make it suitable for long-term horse use (abuse!). We know that there are other ground support product available - many are NOT engineered to hold up for long-term use with horses. Lighthoof has been in use on horse farms for over a decade!
Lighthoof vs General Use Geocells
Made in the USA - Our products are manufactured right here in Houston, TX. We DO NOT import our panels from China!
Longevity - The material was use is certified by the EPA for a minimum of 70 years. Lighthoof includes a 10-year limited manufacturer's warranty.
Free Shipping - No minimum, shipping is included in the continental USA. This has a retail value of up to $100 per panel!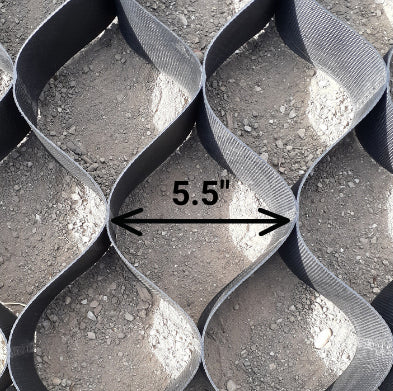 Unique Cell Geometry
Lighthoof's cells are 3" tall and 5.5" in diameter. This has been engineered for the correct ratio to provide passive resistance from gravel compression while dispersing the load across multiple cellular walls simultaneously.
Why does this matter?
A horse exerts a tremendous amount of pressure on the ground. The PSI exerted on the ground by a standing human is 2 - 3 PSI. A walking person and a passenger car exert between 8-12 PSI. A standing 1,250 lb horse approximately 25 PSI and a galloping horse up to 500 PSI. These extremes forces present unique challenges for dispersing that load and creating a cellular confinement geometry that can handle the ground pressure exerted during pawing, running, and sliding.
Lighthoof is the ONLY geocell designed to hold up to these demands and is patented as the only geocell for equine use.
Connectors Included - 40 heavy-duty zip ties are included with each panel for a metal-free installation.
Woman-Owned Business - Originally named Hoof Base, Lighthoof continues to be owned and operate by Kelly Munro of Snohomish, WA.
No Gravel Sub-base Required - Lighthoof may be installed directly over existing mud, without expensive excavation and additional gravel layers.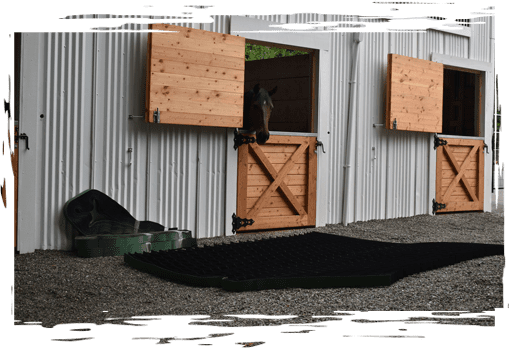 Buy Direct from the Experts – when you call, chat or email Lighthoof, you will interact with a professional that is a lifelong equestrian with firsthand installation experience.
Flexible, Conforming Panels –Lighthoof's flexible system conforms to the ground. This is important in areas that experience frost heave. There are no sharp corners to pop up and become uneven. Rocks that may surface in the spring will not push an individual panel out of alignment with surrounding panels. Because Lighthoof utilizes significantly less plastic to manufacture than rigid panels, you save on both product and shipping!
Install Over Current Mud – Lighthoof does not need a gravel sub-base. It may be installed directly over existing mud, without expensive excavation and additional gravel layers.
Strong Enough for Your Trucks and Tractors – once filled with compacted gravel, you may drive your tractors, trucks, and other vehicles over your panels using only our 3/8" crushed gravel we recommend.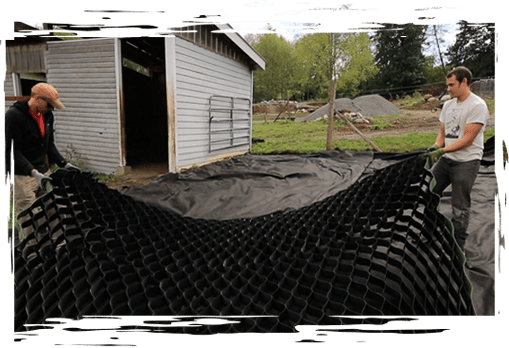 Use on Slopes – Due to its design, Lighthoof can be installed on slopes exceeding 35°.
Ownership involvement – unlike other box stores or online retailers, Kelly is directly involved with the daily operations of Lighthoof. As she and her husband invented Lighthoof, they have been using the product daily for the past decade. Staff may consult with her on the most challenging mud remediation questions to ensure that you get the perfect result, every time.
Designed and Patented for horse use specifically - designed in partnership with her husband, professional engineer and patent holder, Dan Munro, Lighthoof is the only geocell product that may be marketed for equine use. Patent US9103087B2 is in effect for the unique method of supporting hooved animals for livestock-area mud remediation.
We'd love to chat with you about your project and discuss more about why Lighthoof is the long-term mud remediation solution for your farm!