HOW LIGHTHOOF FIXES YOUR HORSE'S MUD.
FOR GOOD.
Lighthoof is a 6 foot by 12 foot long panel made of 3" tall flexible plastic strips welded together to create hundreds of fist-sized cells. Lighthoof panels are stretchy and flexible, they conform to imperfectly shaped and unlevel paddocks and won't crack or heave in a thaw.
Once filled with compacted gravel, the cells have the strength to sustain the weight of even the largest of draft horses, tractors, trucks, and farm vehicles, yet supply the density to keep even the smallest of mini or goat hooves from sinking in and tearing up the ground.
LIGHTHOOF HOLDS GRAVEL IN PLACE TO SUPPORT THE GROUND THAT SUPPORTS YOUR HORSE.
"I love the product. It has helped me keep my paddock cleaner and drier. My horses always have a nice dry, solid place to stand even on the wettest of days. It has helped control the thrush in my herd, helped my daily chores, provides a stable surface to drive our tractor when moving hay... When I think back to the struggles of daily chores I am just so grateful for Lighthoof." - Jennifer G.
IT'S SIMPLE.
Plan your project by visualizing your high traffic areas and the flow of water. Stretch the Lighthoof panels out to cover your needs and then compact gravel into the cells. Do it once and keep it clean, and you and your horses can be mud-free. Forever.
IT'S STRONG.
Based on an invention by the US Army Corps of Engineers for creating sturdy gravel roads through seemingly impossible terrain. It can hold trucks, tanks, and of course your horses.
IT'S SUPPORTIVE.
The surface that Lighthoof creates is non-slippery, stable for hoof traffic, and easy to clean to prevent injury or infection. It also prevents erosion and undercutting of your buildings and fence posts due to hoof compaction or runoff.
IT'S SAFE.
Lighthoof is certified by the EPA for a minimum 70 year lifespan and is chemically inert so it can't leach into your groundwater or degrade in your soil. Although the panels stay buried in the ground, the flexible plastic walls are gentle on skin and hooves if they ever do come in contact with your horse.

PUT AN END TO YOUR MUD TROUBLES
ONCE AND FOR ALL
Lighthoof's flexible plastic equine mud management panels support your horses and their footing so that you can be mud-free.
Forever.
"Super SIMPLE to install. Our horses were walking from the barn to deep mud up to their knees. We installed Lighthoof panels and followed the instructions. It is absolutely amazing how the area has stayed dry and compacted for good footing in and out of the barn. Thank you, Lighthoof from the bottom of our hearts. 💕" - Michelle B.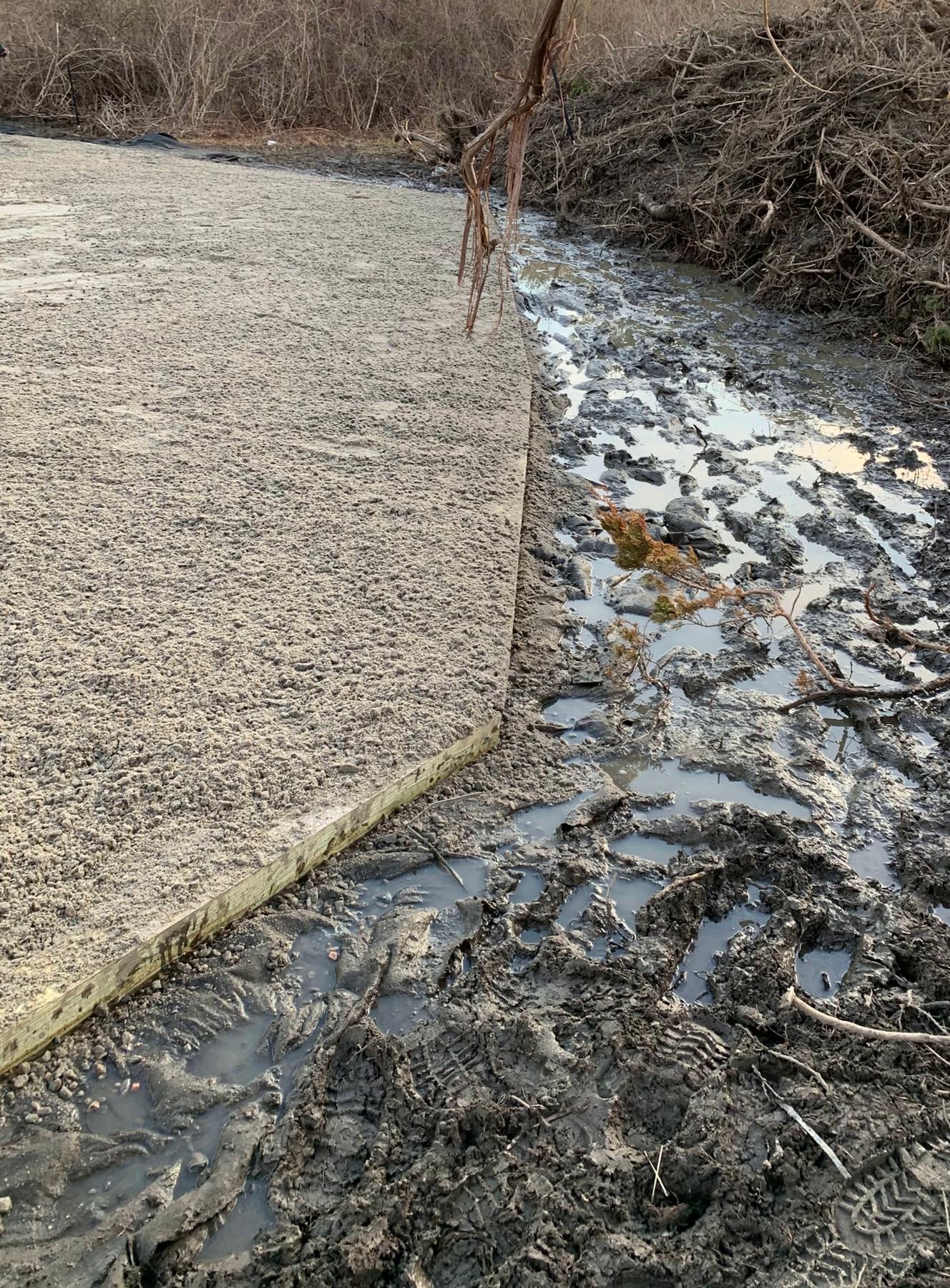 THE PROBLEM...
Deep mud on horse farms is created when horse's hooves press down on soft, wet ground. High traffic areas such as gates, fence lines, and smaller paddocks get damaged quickly by hoof pressure and overgrazing prevents grass roots from holding the earth in place.
Even areas that have gravel or bark on top of the dirt will turn into mud after some time because of the extreme pressure and downward action of the hooves.
Plus, horses add 50 pounds of manure every day to the paddock surface that holds moisture and creates, even more, mud if it is not easily removed.
THE GROUND NEEDS HELP TO STAY STRONG.
Lighthoof equine mud management panels provide the structure and stability that your paddock footing needs to support your horse.
THAT'S WHERE LIGHTHOOF COMES IN.
Lighthoof is made up of flexible, High Density Polyethylene strips that confine gravel in a series of 3" deep interconnecting cells. This limits the displacement of footing from the downward action of the hooves, and holds it in place. Lighthoof protects your paddock footing against erosive forces such as heavy rainfall and runoff, creating a solid, even surface.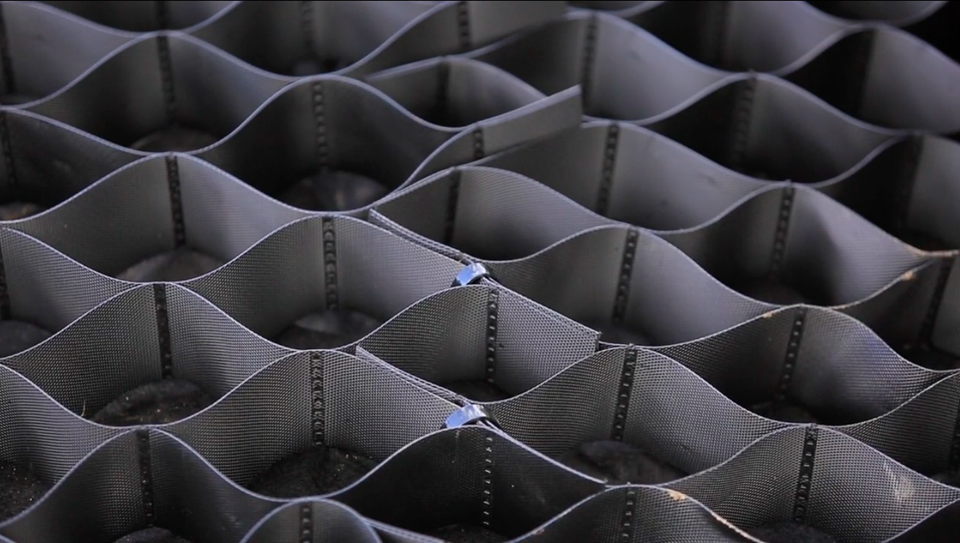 LIGHTHOOF DOES THESE KEY THINGS
Gives tree-root-like structure to your paddock base
Prevents erosion or mixing of the paddock footing
Raises your horse 3+ inches above the muddy ground
Protects and preserves your gravel investment
Creates a safe and easy to maintain surface
FITS YOUR FARM LIKE A GLOVE
Because Lighthoof panels are flexible and can be trimmed to fit with scissors, it's not such a huge ordeal to create mud-free areas on your farm. You can install them around current structures and fence lines without major excavation or equipment.
"I have had a troublesome spot where my horse exited the barn to the arena on a grade descending to the barn. It was always mud. I installed one panel and I am amazed at how dry it has been. It is perfect." - Susan K.
SIMPLE AND BRILLIANT
Lighthoof's patented mud management solution works by holding the gravel in place in flexible 3" deep cells. The cells support the gravel and the gravel supports your horse.
READY FOR A ONE AND DONE SOLUTION?
We know adding Lighthoof to your property is an investment. After spending thousands of dollars on loose gravel, bark, and other temporary solutions most horse owners are ready to give up and move somewhere drier.
So you can believe how happy we were to see the long lasting and low maintenance results we achieved with our own personal Lighthoof installations.
If you are adding new material every year or doing constant digging of drainage to keep water out of crucial areas in your horse paddocks, installing Lighthoof will take a huge burden off your future farm budget and labor.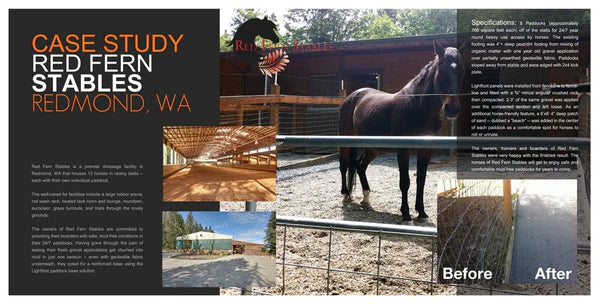 At Red Fern Stables, horses have 24/7 access to paddocks off of their stalls.
We'd tried several other solutions to keep these areas pristine year-round for our client's horses and found that we were having to invest more money each season to prevent mud issues.
We chose Lighthoof because we wanted a permanent solution that would provide the horses with a safe and clean outdoor living area without us having to redo the footing year after year.
Lars Knudsen, Owner - Red Fern Stables
FOR SOMETHING THAT CAN HOLD UP A HORSE,
IT'S PRETTY DARN EASY TO INSTALL...
"Online instructions were straightforward. Two over 60
year old women installed 6 panels in one day." - Karen D.
"Installation was easy and my kids were able to help me do it!" - Kurt B.

FREE SHIPPING ANYWHERE IN THE CONTINENTAL US
Horses need Lighthoof all over this fine country. In case you're not where we are, we make it easy by offering free shipping right to your farm. If you and your horses are abroad, we have options for you as well, contact us for help.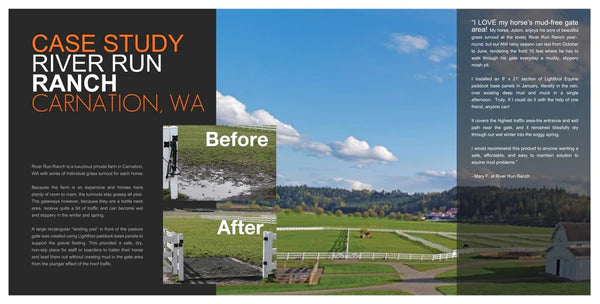 I LOVE my horse's mud-free gate area!
My horse, Jobim, enjoys his acre of beautiful grass turnout at the lovely River Run Ranch year-round, but our NW rainy season can last from October to June, rendering the front 10 feet where he has to walk through his gate everyday a muddy, slippery mosh pit.
I installed an 8' x 21' section of Lighthoof Equine paddock base panels in January, literally in the rain, over existing deep mud and muck in a single afternoon.
Truly, if I could do it with the help of one friend, anyone can! It covers the highest traffic area-his entrance and exit path near the gate, and it remained blissfully dry through our wet winter into the soggy spring.
I would recommend this product to anyone wanting a safe, affordable, and easy to maintain solution to equine mud problems.
Mary Frizzell at River Run Ranch